The FREE Podrunner™ App!
for iPhone & iPod Touch


Download any Podrunner mix directly to your iPhone
No more hassle with manual management or syncing with iTunes!

Sort by BPM
Sort available and downloaded mixes


Search by BPM or Keyword
Search available and downloaded mixes

Display mix info
One touch shows playlists, BPM charts, background info, links

Built-In Player
Displays mix info/playlist, BPM, time elapsed, time remaining

Available for iPhone 3/3GS/4/4S & iPod Touch 2/3/4.
Requires iOS 4x and higher.
WiFi connection highly recommended
---


Podrunner: Shift
for iPhone & iPod Touch


Play any Podrunner mix at your desired speed*
- The entire Podrunner archive at the speed you want to go.
- Change BPM on the fly — instantly

Intro Skip
Don't want to hear the introduction every time you work out?
Press INTRO SKIP and you're in the mix — instantly.

Search, Sort, Download, Play, Display Mix Info

Banner Ads Removed

*Plus or minus 50% of original mix BPM (e.g., 150 BPM mix can be played from 75 to 225 BPM)
Available for iPhone 3GS/4/4S & iPod Touch 2/3/4, iOS 4x.
iPhone 3: Intro Skip & Banner Ad Removal only (insufficient CPU for BeatShift)
WiFi connection highly recommended.
---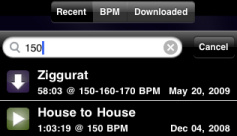 The FREE PODRUNNER APP is your one-stop shop for all things Podrunner. Use it to download, sort, search, view info, and play any available Podrunner mixes, all in one convenient place.

PODRUNNER: SHIFT adds BeatShift, an amazing tool that opens up the entire Podrunner archive to your preferred running speeds.

BeatShift lets you play any Podrunner mix at plus or minus 50% of the recorded BPM. This gives an effective range of 62 to 272 BPM! It also means that every Podrunner mix is now available at your preferred speed, for whatever activity you'd like..



Change speed on the fly! Just use the slider or enter a new BPM in the BeatShift window and you'll be going that speed instantly — with no change of pitch and no loss of sound quality.


Slower walkers, speed runners, bicyclists, spinners, elliptical trainers — with BeatShift, Podrunner mixes are now geared for you as well.

Intro Skip instantly bypasses the introductions and goes straight for the beats, putting you into the mix and into your workout with the touch of a button.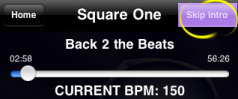 The intros are Podrunner's way to inform you about contests, merchandise, news, and the mix itself, and listening to them gives you head start on Podrunner developments that help you (like this app!) So, pretty-please-with-sugar-on-top, listen to a mix's intro just one time. After that, Skip away!

Podrunner: Shift also removes the banner ads unobtrusively placed on the bottom of the main screen of the free version.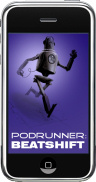 A lot of hard work and cutting-edge development went into this app, and I'm very proud of the result. It's simple, easy to use, rock-solid, and terrific at doing a few extremely valuable things really well.

I hope you agree, and that you will forward this announcement to anyone you know who can benefit from the ability to customize any of Podrunner's many mixes to their own workout.

More details on features are available on the Podrunner App help page. As always, thank you for your support!

--steve boyett